Sociocultural Activities
At Mester we encourage our study abroad students to take advantage of all the wonderful opportunities Salamanca and Mester have to offer. Spanish shouldn´t only be spoken in the classroom, but also should be used in your free time. Mester has carefully planned a wide selection of socio-cultural activities and excursions to the most significant sites in the city, region, and country. These activities go hand-in-hand with our course curriculum. Most of our events, lessons, and excursions are included in the price of the program; however, the number of excursions included varies upon the duration of your stay. We make sure that you stay up-to-date on our activities and excursions with our monthly publication of La Voz de Mester.
Guided Tour
During orientation we provide study abroad students with a guided tour of the city. This tour will help you get acquainted with the city´s prominent attractions. Our extensive tour specializes in the history, artistic significance, and the ancient myths and legends of Salamanca. In addition to the welcome tour, every Friday our teachers lead study abroad students on in-depth visits to specific monuments.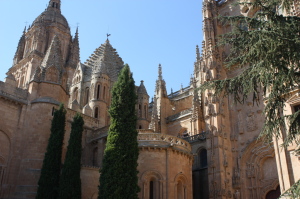 In Depth Tours:
Cathedrals
Salamanca´s University
Casa Lis (Art Nouevau Museum)
El Prado Museum (Madrid)


Discover Salamanca
Our goal is to give you many opportunities to apply your Spanish in the community.
Our visits, tours, and scavenger hunts help students to explore Salamanca while learning. Many of these activities relate directly to our conferences &
specialty courses
. Participating in these activities is a great way to reinforce the information learned in the classroom.
Visit to the central market:

Students learn specific food and vendor vocabulary and observe the Spanish customs of buying traditional meats and cheeses and fresh produce in an open market.

Shopping trip

On this trip students can shop just as the locals would. They learn the specific stores where various necessities are sold. The trip takes them to the local businesses, super markets and

Spain´s popular department store—El Corte Inglés.

Mystery Scavenger Hunt

This interesting, exciting mystery scavenger hunt allows students to explore Salamanca. Students work in small groups to unravel clues, discover hidden secrets, interact with the people of Salamanca, and ultimately solve the mystery!

Photography tour through Salamanca

Similar to the mystery scavenger hunt students are required to document their investigations with photos of Salamanca´s intricate architecture and vibrant culture.

Tourism in Salamanca 

Salamanca is among one of the most prominent tourist destinations in Spain due to its historical university and its influences on art and culture.
Excellent complement to our Spanish Tourism class

Salamanca and the Civil War

The Spanish civil war is a topic that is deeply rooted in Spain´s history, society and modern day politics. Salamanca was a city completely engulfed in the war and post-war struggles. Students search the city to discover information on the historical artifacts and personal accounts associated with the civil war.
This tour is a great addition to our course on the Spanish Civil War.

Literature Tour

Incorporates important literary pieces and visits to significant locations referenced in these texts.
This tour adds depth and understanding to the topics discussed in our Spanish Literature Course
Conferences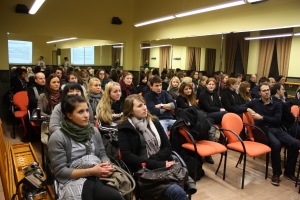 In our annual cycle of conferences we present and discuss important aspects of Spain's heritage and lifestyle. In the conferences we cover various themes and time periods ranging from Spain´s origin to modern day Spain. On Mondays and Tuesdays we offer history and art conferences, on Wednesdays we have literature conferences, and on Thursdays our conferences focus on culture. Participating in our weekly conferences provides additional perspective and cultural awareness to your language studies. These conferences may fulfill some of your University´s degree and credit requirements in literature, history, and culture.
Excursions
Our excursions will be an unforgettable part of your study abroad experience! Every weekend we organize interesting, and culturally enriching trips to various Spanish cities both within the province and in other regions. Mester invites you to discover the captivating beauty and great geographic contrasts of Spain´s most famous cities. Within the diverse region of Castilla y Leon we organize trips to Leon, Ávila, Zamora, Astorga, and Segovia.   Our study abroad students can also participate in active and adventurous excursions to the Sierra de Francia or participate in our "Día en el Campo." Spain has so much to offer! While studying in Salamanca you will have the opportunity to visit monumental cities and sites in Spain such as Madrid´s Palacio Real or the Prado Museum, Toledo´s Escorial, Granada´s Alhambra, Cordoba´s Mezquita, Sevilla´s Plaza Espańa, and so many more!
In Castilla y Leon:
León
Ávila
Zamora
Astorga
Segovia
Sierra de Francia
Other excursions:
Granada
Sevilla
Cordoba
Madrid
Toledo
Lisbon
Films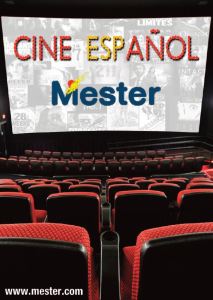 Seeing films in Spanish is a good way to learn new vocabulary and analytical skills. For this reason, Monday through Thursday Mester shows a variety of Spanish films. These films are often related to concepts discussed in the weekly conferences. By viewing these films, students can relate ideas from conferences to their plots and cinematography.
Tapas Tours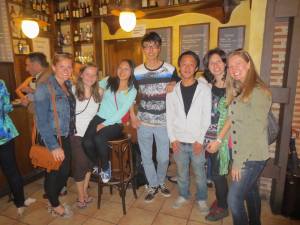 Tapas tours are our most popular activity and one of the most iconic Spanish customs. Going out for tapas is a great way to be with locals, try new foods, and get to know your classmates and teachers outside the classroom. Salamanca is home to a number of well-known and popular tapas (or pinchos in Salamanca) bars. On Mondays, we go to a selection of four bars where students can try local dishes and a drink of their choice. This activity gives the students the chance to taste the
Spanish gastronomic culture.
Cooking and Dance Classes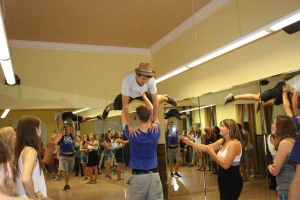 Every week we offer cooking classes where we teach students how to prepare typical and delicious Spanish tapas. The focus of the class is to learn Spanish customs, socialize, enjoy, and try new foods! Dance and music are innate to Spain. To give our study abroad students a taste of these vibrant and expressive forms of dance, every week we offer Sevillanas and Salsa dance classes.


Concerts
Due to the large international and student population, Salamanca frequently hosts concerts. A few times a year, Mester organizes concerts either at our academy or in a local bar for students to listen to various music genres: classical, international, pop, and traditional Spanish.
Sports and Outdoor Activities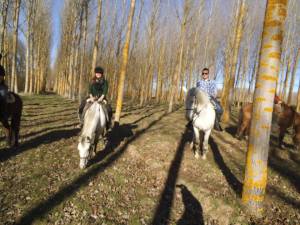 Sports are a great way to get involved, meet your peers, and stay active while studying abroad. Each month we organize tennis, basketball and swimming competitions. When possible, we organize excursions to Champions League football games. On the first or second Friday of each month we visit a local farm and go horseback riding. During the summer months, we cool off by swimming in the nearby outdoor pool.